NEWTON — Four-win Foard maximized its homecourt advantage, storming out of the gates with an up-tempo offense that drilled five 3-pointers for a 25-19 first-quarter lead.
But the Patton boys basketball team weathered that storm on the road Friday, keeping its offense rolling while clamping down on defense to slow the Tigers' pace in a 66-54 Northwestern Foothills 2A Conference win.
Foard only hit two more 3s the remainder of the game, was outscored 21-13 into halftime for a 40-38 Patton lead, and only posted 16 points after the break while the Panthers (10-5, 4-2) stayed steady behind a double-double effort from senior post Bryson Holsclaw (game-high 21 points, 13 rebounds, two blocks).
It's the seventh consecutive season that Patton has won 10 or more games under coach Dennis Brittain.
"Give (Foard) a lot of credit, because they made shots," Brittain said. "They hit everything that first quarter. Part of that, I think, is we didn't play very aggressive. I thought we were kind of back on our heels a little bit on defense.
"We were doing pretty decent on the offensive end ourselves, getting the ball in to Bryson. Bryson played really well. So, we were playing fairly well and fairly smart offensively in the first quarter, but not as good as we can defensively. And they certainly played really well shooting the ball. I thought they did a great job."
Senior point guard Chris Lytle (13 points, five rebounds, four assists) and classmate Jackson Vance (12 points, six boards) combined for 25 more points for the Panthers as they improved to 3-0 in conference road games this winter.
"At halftime, coach came in and told us we have to play better defense," Lytle said. "We weren't getting out to the shooters. We just had to slow down, play defense, get to our man and keep our man in front of us because they kept driving by us. If we keep our man in front of us, slow the ball down and look to feed it inside, it gets us back in the game.
"It was pretty big (to play at a faster pace). We just had to keep feeding it inside. They keep shooting 3s, we've got to get two points. Just keep staying with them."
Caleb Castle and Connor Rudisill came off the bench to score six points apiece, and freshman starter Jayden Powell scored five for the Panthers in the win in hostile territory.
"We thought (Foard's) legs would go eventually, and that's what kind of happened," Brittain added. "It was a good test. It's a hard place for us to play coming down here. We've always had to battle at this place, and tonight was no different."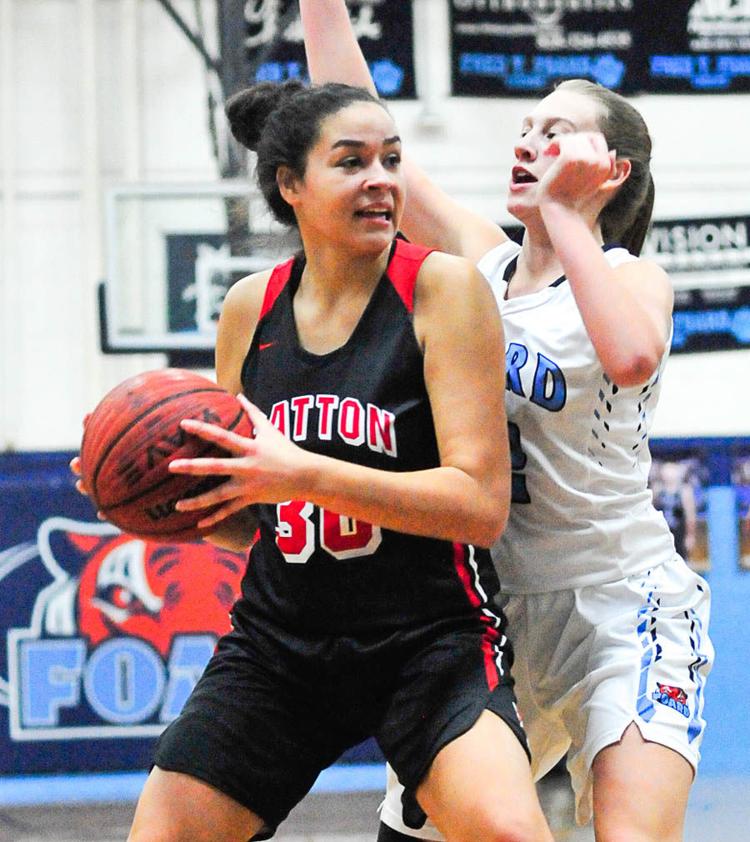 The Lady Panthers (9-6, 5-1) held the hosts without a shot attempt for more than 5 minutes to start the game, blocking five early while forcing eight turnovers in that span.
The staunch defensive effort continued even after that as Foard didn't score its first point until the 5:12 mark of the second quarter and didn't hit a field goal until more than 13 minutes into that game.
By that time, it already was 33-1 in favor of Patton, which started the game on a 29-0 run.
"I was very happy with our efforts on defense," said PHS coach Autumn Helms. "We focused on that all week while we've had four days off for testing. We've really been talking about our overall defensive effort. Flying around and communicating, whether that be in a zone or man."
The lead grew to 54-18 after three quarters before the game went to the mercy rule running clock at 60-20 on a Nevaeh Duckworth basket with 5:38 to play.
"(The fast start) helped us because we got ahead and could get other people to play and to score," Duckworth said. "Everybody scored this game, so that was good. I remember what it used to be like when I was on JV and not getting to play as much. Now that they're getting to play and score, I know it helps them boost their confidence."
Duckworth (nine points) was one of 11 Lady Panthers to score, along with fellow starters Reece Fisher (game-high 17 points), Zakiah King (double-double with 15 points, 11 rebounds, five assists, four steals and three blocks), Claire Hawkins (four) and Brailey Nelson (three).
The bench was led by JV callup Haven Duckworth (six), Cierra Lail (five), Hayley Caraway (3-pointer) and a basket apiece from Madilyn Brown, Kelsey Powell and Kierra Teeters.