The Patton boys basketball surged into and out of the halftime break at home Tuesday night in a season-opening nonconference win over South Caldwell, 60-47.
Junior guard Caleb Castle nailed three 3-pointers in the first three minutes of the second half as a six-point intermission lead ballooned out to 13. He drained one from the right wing on a Finn Rigsbee assist less than a minute in before taking an assist from Jackson Vance 90 seconds later on the other side of the court. The Vance-to-Castle connection worked again two possessions later for another trey.
Patton never led by fewer than eight the rest of the game.
"We were up a little bit and felt like we had momentum," Castle said. "Coach (Dennis Brittain) always preaches about playing our role. My role is really a shooter, so I just try to do what I can in that role."
Castle's spurt continued the spark that sophomore Waylon Rutherford gave PHS (1-0) going into halftime. During a 13-2 hosts' run in the last 3:37 of the first half that resulted in the game's first double-digit lead, Rutherford nailed two 3s of his own on assists from Rigsbee and Chris Lytle, adding a coast-to-coast steal-and-score in between.
"(Point guard Chris) 'Ducky' (Lytle) and all of them were getting me open," Rutherford said. "Them driving and being able to kick the ball out was really what helped."
"Those two guys were huge," Brittain added. "They were giving us some separation in what was a really tight ballgame. I thought we executed when we went a little bit smaller. That seemed to work better than when we played bigger offensively."
Rigsbee hit three times from beyond the arc himself to lead the team with 15 points, adding four rebounds and three assists. And senior post Bryson Holsclaw picked up where he left off last season, notching a double-double with 14 points and 10 board to go with five blocks and three steals.
Rutherford finished with 10 points and Castle had nine while Lytle (three assists) and senior Jackson Vance (two) scored four points apiece. Freshman Jayden Powell's lone basket gave Patton its first lead at 8-7 early in the second frame.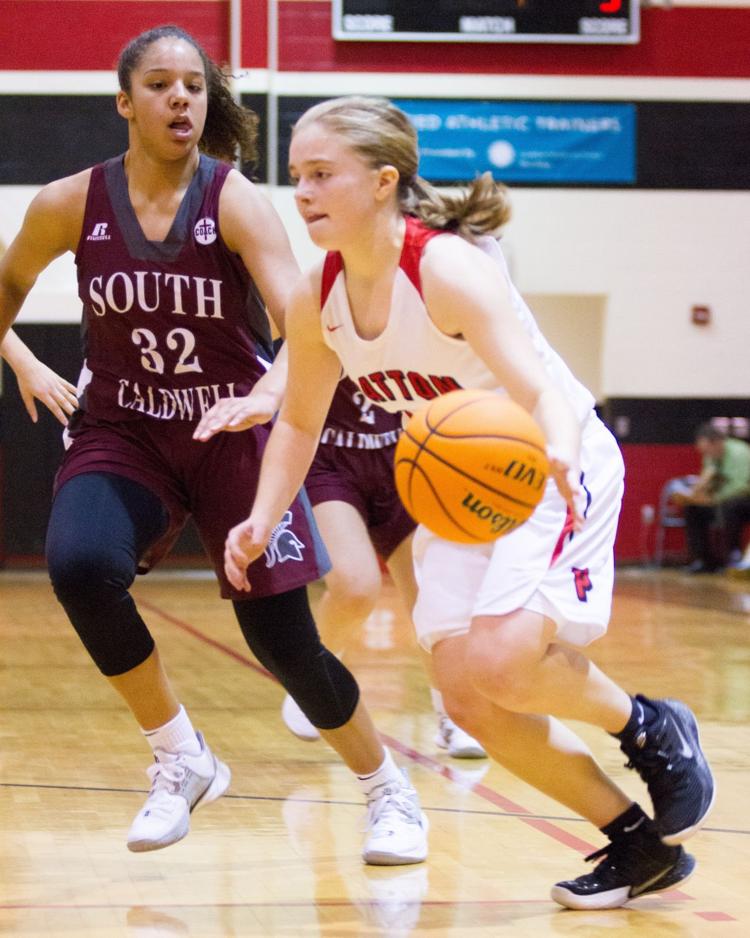 South Caldwell 51, Patton 38
Sophomore center Zakiah King's rebound basket early in the second quarter gave the Lady Panthers (0-1) their largest lead at eight, but the 18-8 South Caldwell run that immediately followed took away the lead for good for the hosts.
The Lady Spartans outscored Patton 26-16 in the second half, leading by as many as 20 after scoring 15 straight to end the third frame and begin the fourth.
King led the game with 14 points, adding eight rebounds and two blocks. Junior point guard Reece Fisher scored 12 with three boards.