The Patton boys basketball team started all five seniors for Senior Night on Tuesday, and they provided a big early boost as the Panthers never trailed in a 69-48 win over Foard.
Bryson Holsclaw had a hand in each of the first five field goals, making the first three himself and kicking out of the post to Chris Lytle and Jackson Vance for 3-pointers. Vance then located Finn Rigsbee for a 3 and 15-3 lead.
Rigsbee caught fire from there. His three free throws put the margin in double digits for good at 20-8, and his second 3 made it 23-8 and gave him 11 early points.
The lead went to 20 before halftime at 36-16 on a Vance corner 3 and swelled to 30 at 47-17 on a Holsclaw basket assisted by Matthew Thomas on the second possession of the third quarter.
Patton (16-6, 10-3 Northwestern Foothills 2A Conf.) led by as much as 34 but substituted liberally down the stretch.
The seniors scored each of the hosts' first 39 points of the night as the Panthers' 16th win moved them into second place in program history for a single season and they hit double-digit conference wins for the second time as well.
"That's what you want on Senior Night," Patton coach Dennis Brittain said. "You want the guys to go out there and play hard and play well and have a little bit of wiggle room to still go have fun, get everybody the ball.
"It was a good game for us. I thought we played really well in the first half. … Finn played extremely well. Bryson was good early on, Jackson played really well, smart. Matthew came in and did some good things for us. And (Chris), they all played well. It was nice to see us execute. Not to discredit them but you should come out and play well when you're near the top of the league against a team near the bottom, but we hadn't done that all year."
Rigsbee led with 21 points and five rebounds, Vance added 16 points and six rebounds, Holsclaw scored 10, Lytle added seven with four assists, four steals and two blocks and Thomas grabbed five boards. Ten of the 11 total PHS players scored.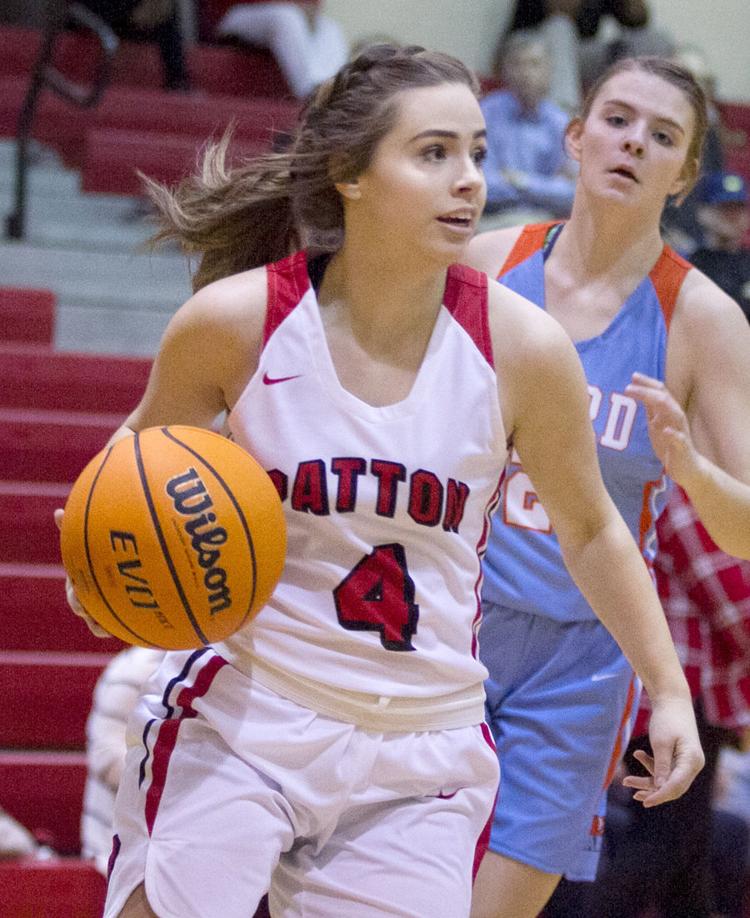 In a battle of leading lady cats with wounded paws, Patton (14-8, 10-3) defeated Foard for an eighth straight time as Lady Panthers sophomore post Zakiah King continued her mastery of the Lady Tigers and stole the show.
King scored a career-high 25 points to go with the rest of video-game stat line: 17 rebounds, seven blocks, five assists and four steals.
Coming in, King had averaged 16.0 points, 13.3 rebounds and at least three assists and blocks per game in her first three career contests vs. Foard, shooting around 65 percent from the field. Her top two scoring games last year as a freshman (15, 18) both came against Foard, and half of King's eight career 15-point-plus games have now come against Foard.
"We needed Zakiah to have a game like she did tonight," Patton coach Autumn Helms said. "She can do that more. Her offensive crashing, her rebounds in general, she was putting the ball in the basket. And we need her to do that and finish through contact."
Celebrating Senior Night for Brailey Nelson and Claire Hawkins as well as the injured Ashlyn Castle, Patton led 8-0 but Foard twice led in the second period and went into halftime tied. A 9-0 run early in the third capped by a Reece Fisher 3, the team's first of the game, lifted the margin to at least seven the rest of the way.
Patton had lost two of three but stays tied with Bunker Hill for second place with the win.
"In the third quarter) we just started to move the ball better, which led to better opportunities and more offensive rebounds," Helms added. "Tonight was a big night. Last week, I didn't think we played very well as a whole, so we needed to see that energy and success. And we did at times. I'd still like to see it be more consistent, but I'm proud of them."
Foard's Alexis Wolgemuth and Fisher — junior guards both playing through hand injuries who rank first and third in the league in scoring — went for 33 points and 17 points and four steals respectively tonight.
Nevaeh Duckworth added six points with four rebounds and three steals, Nelson also scored six and Hawkins added four with five assists and five steals.