Forget the two-horse race talk. The Spartans stole the show this week.
Three nights after a 2-9 South Caldwell boys basketball team stunned top-10 Hickory at home, the Spartans won Friday at No. 2 Freedom — albeit, a shorthanded version of the Patriots — by a 78-73 margin, leading from the start of the second period onward.
The outcome snapped a 27-game Freedom home win streak and a 20-game Freedom win streak versus South Caldwell dating back to the 2006-07 season. Freedom had won each of the previous five meetings by 32 or more points.
The Patriots (13-1, 2-1 Northwestern 3A/4A Conf.) were playing minus starters James Freeman (suspension) and Jayden Birchfield (college visit) plus three other players on the roster not counting preseason projected starter Aidan Pearson (injury).
The Spartans took advantage with four players each scoring 15 points or more, and they now sit in a virtual four-way tie for first place with fellow one-loss squads Freedom, Alexander Central and Watauga (3-1, half-game ahead) in the seven-team league.
"You've got to get a few breaks obviously," said first-year South Caldwell coach Danny Anderson, a 712-game winner in his 40th season on the prep sideline. "I thought our kids played hard and really well. We were able to get it inside some.
"I think we're finally kind of starting to understand the system. I was really frustrated early. But if it was easy to change culture and change systems and all, then everybody'd be good every day. The credit goes to the kids."
Freedom's last lead came at 15-13 on a Nick Johnson layup in the halfcourt off the dribble.  The biggest deficit of the night came at 36-24 at halftime, but the Pats got within 49-47 on Ben Tolbert's third 3-pointer of the third quarter and later within 64-63 on two Bradley Davis free throws with 2:51 left.
Both a Davis 3 and putback later put Freedom within two, the second time with 39 seconds to play, but the hosts never got closer.
 "We just weren't good enough tonight," Freedom coach Clint Zimmerman said. "It had nothing to do with missing this guy or missing that guy. We still had plenty of guys out there, and South Caldwell was just better than us tonight. They executed some stuff, and at the end of the day it comes down to we weren't able to get that big stop, we weren't able to get that big rebound."
Davis scored 18 of his 21 points after halftime to lead Freedom, also grabbing five rebounds. Qualique Garner scored 16 and grabbed a team-high seven rebounds, Tolbert added 15 and Johnson scored a season-high 13 and led FHS with three steals. Kason Ledford added five points and five rebounds and Quentin Rice had four assists.
Freedom 69, S. Caldwell 51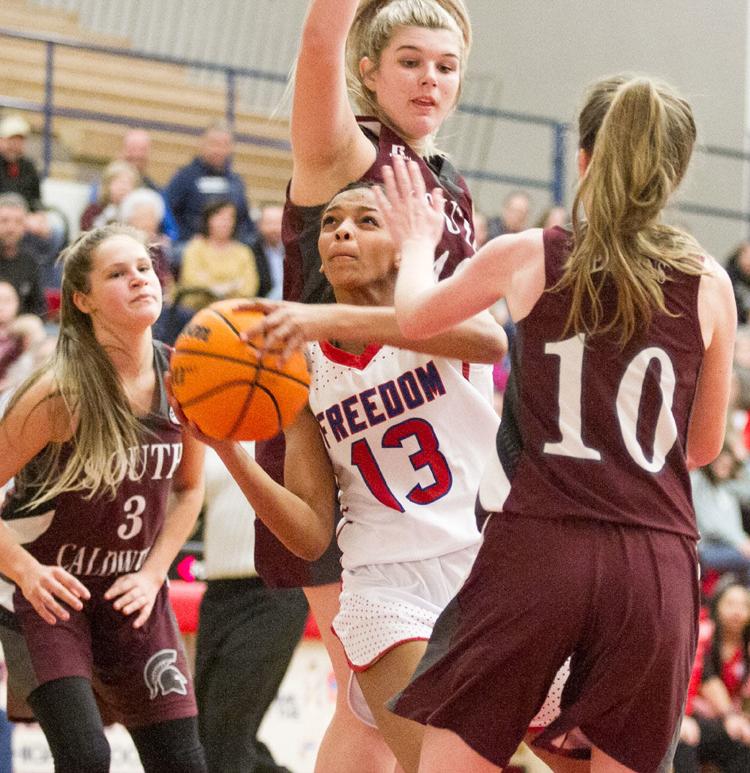 The Lady Patriots (14-0, 3-0 NWC) stayed perfect, slowly easing away from the Spartans on Friday for a 13th straight time thanks to a balanced effort.
Freedom led 17-12 after one quarter and 36-24 by halftime despite four players each being saddled with at least two fouls, including one player with three fouls prior to the half.
Freedom went up 18 twice in the third period and pushed the margin to as much as 22 with a little over 5 minutes left on eight straight Blaikley Crooks points. Crooks led Freedom with 20 points, 14 rebounds (12 in first half) and four assists.
"This whole season I've been more focused on (rebounding)," said Crooks. "I just know that's my job too as well as scoring."
"Blaikley was a beast on the glass. She's just been that way all year," FHS coach Amber Reddick said. "Only playing with one big as opposed to two last year, I feel like Blaikley has owned that rebounding gap."
Freedom had four players score in double figures and another with nine, all by the end of the third quarter.
Behind Crooks, Josie Hise scored 16, Adair Garrison hit double digits for a fifth straight game with 10 and added six rebounds and three assists, and Danisha Hemphill (six rebounds, two steals) also scored 10. Jayda Glass contributed nine points, seven rebounds, four assists and two steals.
"Balanced scoring is something we figure can be a strength for us," Reddick added, "and I think that was big for us tonight just being shorthanded again without Stevee (McGee) and losing Makayla (Moore).
"We had some players do a good job playing through foul trouble, and you know South is always going to scrap and play you tough, so you have to expect that."