A look back at some of the bigger anniversaries from Burke County sports in the spring months of 1995, 2000, 2010 and 2015 … 25, 20, 10 and five years ago at this time:
Ford named freshman of the year
Ali Ford, a 2009 Freedom High graduate, was named Southern Conference women's basketball freshman of the year and was named to the All-SoCon first team in March 2010 with Elon.
The former NCHSAA female athlete of the year who is the county's all-time leading prep scorer (2,502 points) averaged 16.1 points per contest as a Phoenix freshman guard. Ford also recorded 93 assists, 57 steals and 59 rebounds that season while connecting on more than 32 percent of her 3-point field goal attempts and more than 80 percent of her free throws.
Ford finished her collegiate career as the SoCon's all-time leader in made 3-point field goals. She went on to represent the U.S. at the 33rd annual FIBA William Jones Cup international hoops tournament in Taiwan in the summer of 2015.
Ford later that year played pro ball in Iceland and has since served on several college coaching staffs, first as a graduate assistant at Old Dominion and later as an assistant coach at UNC-Wilmington and at Colorado State-Pueblo.
Anderson sets state high jump record
Tanner Anderson enjoyed a big year in 2010. In February of that year, Anderson won the NCHSAA indoor track state title in the boys high jump. His winning jump at that meet placed him at No. 3 indoors nationally.
Then in March, the East Burke senior placed second in the nation in the event at the Nike National Indoor Track and Field High School Championships, where he earned first-team All-America honors. The same month, Anderson set an N.C. high school record 7-foot, 3¼-inch clearance at the Mooresville Invitational.
That May, he went on to win outdoor state with a jump of 7-feet, 2½-inches which broke both the 2A and all-time state meet records. After his Cavalier days ended, Anderson enjoyed a standout college track and field career at Duke.
Guilford College senior and Freedom High graduate Clay Henson was named a second team All-American in NCAA Division II men's basketball by Basketball Times. Henson averaged 17.8 points per game and set the school record for 3-pointers (98) made in a season.
Also a D-III News third-team All-American that year, the 6-foot-2 three-year starter finished his career with 1,717 points, ninth in school history and 287 made 3s (first in school history upon his graduation). …
Freedom coach Amber Reddick was named SMAC girls basketball coach of the year in March 2010, her first such league honor. Her Lady Patriots team was depleted by graduation, losing four of five starters and 83 percent of its scoring from the prior season, yet ran the table to claim the league regular-season and tournament titles before advancing to the third round of the playoffs. …
Leon Johnson and Clinton Foust were inducted into the Burke County Hall of Fame in the spring of 2010. Johnson starred in football at Freedom, where he made the all-state team and was a Shrine Bowl selection in 1991, before he also did big things at North Carolina, leaving as the ACC's all-purpose yardage leader. Foust was an icon in parks and recreation in the state of North Carolina.
Following a 12-year hiatus, the Freedom girls made a second straight run to regionals in hoops. Once there, they led by 18 early in the second half until Weddington's Stephanie Watts caught fire. Watts led her Lady Warriors all the way back to win with eight second-half 3s, finishing with 39 points.
Freedom would not lose again until the 2016-17 season, using the setback as fuel for the county's first-ever unbeaten season the next year. Watts went on to star at UNC. …
Trevor Bollinger was a member of the U.S. junior world trophy team at the International Motorcycling Federation's (FIM) International Six-Day Enduro (ISDE) in Argentina. Bollinger's U.S. team stormed from behind to claim its first title at the event since 2006 and just its third title all-time. Bollinger, then 20, attended Liberty Middle and Patton High before graduating from Avery County High. He now stars in the GNCC pro dirtbike series. …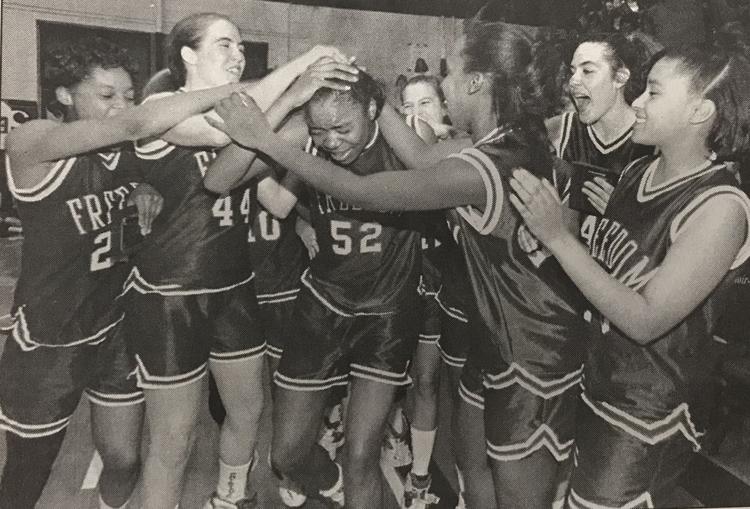 Ralph "Jug" Wilson, former football coach at Glen Alpine and Freedom, became the third inductee all-time into the Burke County Sports Hall of Fame in the spring of 1995. He is now also a member of the Catawba College, Western N.C., NCHSAA and Glen Alpine halls of fame. He was the first-ever person selected for the NCHSAA HOF based on accomplishments in Burke County.
In his 34 seasons, his teams won 269 games, fifth nationally at the prep level when he retired. Wilson was also one of four men all-time to both play and coach in the Shrine Bowl of the Carolinas.
Between his stops at GA and Freedom, Wilson's teams won 18 championships. From 1961-69, GA compiled a 92-13 record, won the Skyline Conference title each season and claimed four Western NCHSAA 1A regional crowns (two Western, two Midwestern). …
Freedom boys hoops coach Terry Rogers was selected to serve as head coach in the 1995 Capital Classic All-Star Game at the University of Maryland. Rogers was fresh off winning the 1994 4A state title with the Patriots, their first ever in the sport. The former George Hildebrand and Gardner-Webb standout coached at Oak Hill before FHS opened and went on to win the '98 with Freedom as well before taking a coaching job at Western Carolina and later, at Mars Hill. He's a member of three halls of fame including the NCHSAA and Burke County.
Freedom's Natasha Davis and Tara Ramsey were named to the all-state team in girls hoops, while Marsha Crump was named state coach of the year after the Lady Patriots repeated as state champs. Lin Lattimore joined that group on the boys side in '95.
Five years later, in 2000, East Burke's Brandi Westmoreland enjoyed her own repeat, claiming a second straight all-state honor on the hardwood, while then-FHS sophomore Kerri Gardin was named honorable mention all-state. 
EDITOR'S NOTE: This is the second of what we hope to be a weekly series of articles highlighting big local sports' anniversaries, given the current down time for local sports. Readers are encouraged to share any of their memories from local sports this time of year — namely March, April and May — by emailing sports@morganton.com. Photos would be appreciated too but are not a must. For consideration to be included, please include what month (and day if known) and year the event took place. We're particularly looking for events that took place on anniversary-type years from 2020 — 10, 20, 25, 50 or 75 years ago — but any event will be considered if it fits the other scope of criteria.