A look back at some of the bigger anniversaries from Burke County sports in the spring months of 1995 and 2010 … 25 and 10 years ago at this time:
Christy Timbers breaks brother's scoring mark
Christy Timbers set the Freedom soccer scoring record as a junior in a 4-1 home win over Watauga in a 1995 first-place Northwestern 4A Conference battle.
She didn't stop scoring until her record grew to "unbreakable" status.
Timbers broke her older brother Josh's record 25 years ago. Josh Timbers finished his FHS career with 91 goals and 46 assists for 228 points.
The younger Timbers finished with an amazing 158 goals in 79 career games (2.0 goals per game). The next-nearest FHS girls player all-time as of 2005 (when records were last updated) had less than a third of Timbers' mark at 50 career goals.
Timbers owns the top four scoring seasons all-time at FHS (all stats through 2005), recording 53 as a sophomore, 47 as a senior, 34 as a junior and 24 as a freshman. She has three of the top four points seasons all-time for the Lady Patriots and ranks first in career assists as FHS as well (62).
Timbers opened that '95 season with a goal late in regulation that led to a 3-2 win over Hibriten and capped the year with a second-half goal for a 1-0 win over rival East Burke to complete an undefeated league season for FHS.
Timbers' play in part keyed a remarkable run — one that was never duplicated — by Freedom soccer, which won the NWC 4A championships for three consecutive calendar years from 1994-96 on both the boys and girls side.
She was named all-region all four years and was conference and regional player of the year three times, also making all-state three years and playing in the East-West All-Star Game after her senior year. Timbers also finished her career with Freedom records for single-season and career hat tricks (13; 29), game-winning goals (13; 34), game-winning assists (8; 14), multi-goal games (13; 46) and multi-assist games (7; 14).
While her brother would go on to an All-ACC playing career at Wake Forest, Timbers wasn't finished setting records.
The forward started every game during her four-year career at UNC-Wilmington and as of 2008, when she was inducted into the UNCW Athletics Hall of Fame, held the school record for most games played (81). The two-time UNCW team MVP scored a career-best 19 goals during her junior season with the Seahawks and finished with 53 for her collegiate career.
As of '08, Christy Timbers Rife (having by that time been married) still owned nine UNCW program records. She was also named to the All-Southeast Team with the team in 1998 and '99 and after graduating in 2000, played professionally for the Charlotte Lady Eagles.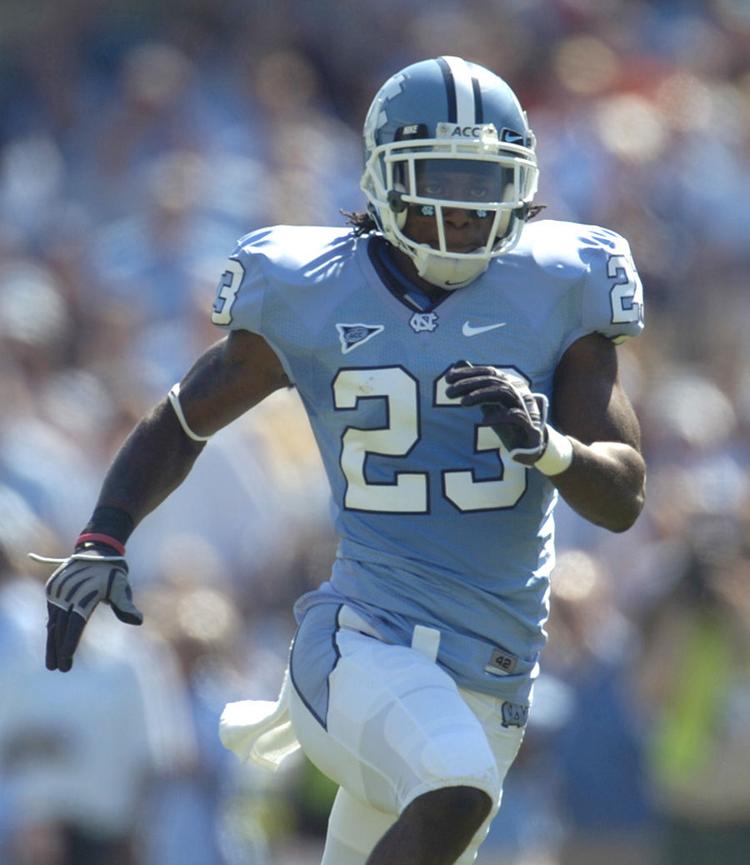 Freedom grad Jordan Hemby signs NFL contract
(NOTE: This article originally appeared in the May 19, 2010 edition of The News Herald. It has been edited.)
Jordan Hemby has come a long way from the eighth-grade kid at Table Rock Middle School playing his first year of competitive football.
After four years on the gridiron for Freedom High, then four more at Kenan Stadium as a defensive back for the University of North Carolina, Hemby's hard work paid off on April 30, when he signed a three-year rookie free agent contract to play for the NFL's Indianapolis Colts.
He's come a long way indeed, but it's been a quick journey up the football ladder for Hemby, who's only played the cornerback position for five years. He'll now be tested by one of the all-time greatest quarterbacks every day in practice.
"I definitely feel like this is the opportunity of a lifetime," Hemby said in a recent phone interview. "I'm really looking forward to it. I've been a fan of the Colts and Peyton Manning for a while now. It's going to be crazy to have a chance to go up against him in practice and try to pick him off."
Hemby, 22, hopes to stay at cornerback in the NFL but realizes that he'll probably be asked to play some special teams, where he excelled at UNC as a senior.
"I feel like I can be an asset to the team (at cornerback), but special teams was something I learned the importance of at Chapel Hill," the 2005 Freedom High grad said. "So I'm thinking they may use me on kickoff coverage with my experience there.
"I had two pretty good cornerbacks in front of me (last year at UNC), so it was just where I was needed and I didn't mind. I'm the kind of guy who's willing to help the team any way possible. To me, it's not about going out and proving myself. I just want to go play."
Hemby, at 5-foot-11 and 190 pounds, said the NFL-style system that former University of Miami and Cleveland Browns head coach Butch Davis runs at UNC — both in games and especially in practice — should have prepared him for life in the pros.
Hemby was a three-year letterman for the Tar Heels and started 13 games as a junior in 2008, recording 49 tackles and three forced fumbles. Hemby had 67 career tackles in his four seasons at Chapel Hill. He recorded a career-high eight tackles against Maryland in 2008 and forced a fumble against West Virginia in that year's Meineke Car Care Bowl in Charlotte.
Hemby as a prep senior helped lead FHS to a 7-4 record, runner-up NWC 4A finish and fifth straight state playoff berth with seven interceptions and 750 yards rushing. He is the son of Jas and Irene Hemby and majored in communications at UNC.
Some might say Hemby's facing long odds to stay off the practice roster and make the team's final cut after training camp in August. After all, he did go undrafted. But Hemby has already overcome the naysayers once, coming back for a productive college career after tearing his ACL during his freshman year in college.
He's now focused on a greater awareness of the game and himself.
"I feel like I want to get better mentally with how I approach the game," Hemby said. "I think I have the physical skills. A lot of people tell you that at this level, the mental aspect is where you make your mark. That's what separates you."
EDITOR'S NOTE: This is the fourth article in what we hope to be a weekly series highlighting big local sports' anniversaries, given the current down time for local sports. Readers are encouraged to share any of their memories from local sports this time of year — namely April, May and June — by emailing sports@morganton.com. Photos would be appreciated too but are not a must. For consideration to be included, please include what month (and day if known) and year the event took place. We're particularly looking for events that took place on anniversary-type years from 2020 — 10, 20, 25, 50 or 75 years ago — but any event will be considered if it fits the other scope of criteria.