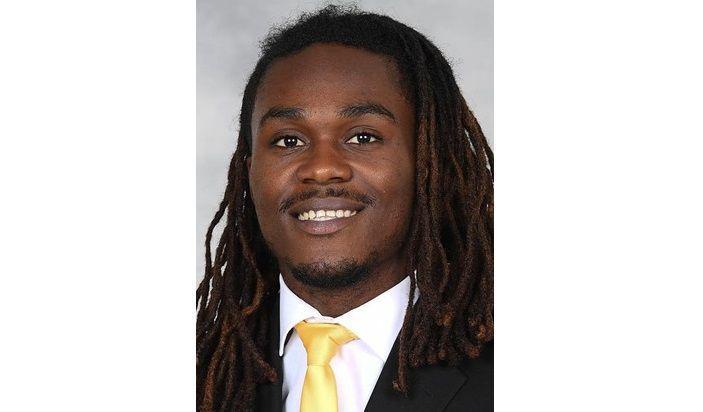 Willie Edwards' significant moment might have gone unnoticed.
The defensive back played for the first time in 2019 on Saturday, getting into Appalachian State's game against Georgia State with the result well in hand. He registered a tackle and provided pressure as the Mountaineers cruised in a 56-27 victory.
Edwards, a grad transfer from Illinois State, came to App State to boost a defensive back group with preseason question marks. Instead, he was injured in fall camp, forcing him to have surgery on an MCL and took away most of his final college season. Those late game snaps preceded a heartfelt Twitter post later that night about what it took to finally see the field.
"If my story can tell anybody to keep going or there will be brighter days, then that's what it's about," Edwards said Monday. "Because injuries, it's a tough time for an athlete. It's very tough. I'd just say to keep your support system around, keep your head up and have a vision."
In order to understand that mindset, Edwards' path must be understood. He redshirted his true freshman season in 2015, becoming a contender for playing time next season. The Redbirds already had one starter fleshed out at cornerback — Davontae Harris, a close friend of Edwards who now plays for the Denver Broncos. Edwards eventually earned that other starting position, appearing in the team's season opener against Valparaiso.
But 2016 featured the first of many injuries Edwards has battled through. A lower back injury forced him to miss eight games that season. He ultimately returned to grab his first career interception against South Dakota State. In 2017, he appeared in 11 games, starting nine, before tearing a bicep in the season finale. His junior year, he said, he felt like he was finally starting to generate pro interest.
Harris had graduated, and Edwards felt he could capitalize as the lead man of the defensive back group coming into the 2018 season. He played eight games, but it ended with a dislocated shoulder and a torn labrum trying to break up a play before halftime against South Dakota State.
Ultimately it led to Edwards moving on from Illinois State, hoping to take advantage of his final season to play with a high-caliber team.
"I never really envisioned leaving there," Edwards said. "Because when you come in, you have a bond with your class, your brothers.
"... From there I entered the transfer portal with the hopes of playing for a ranked team, a top-caliber team like the Mountaineers."
Edwards landed in Boone to bolster a cornerbacks group that lost both of its starters; Shemar Jean-Charles, Shaun Jolly and Edwards were expected to battle for the right to start.
Jean-Charles and Jolly have started nine of App State's 10 games. Jolly, a redshirt sophomore, has really capitalized. He's grabbed five interceptions, two of which he's returned for touchdowns, while growing in confidence as the season has gone on, as Coach Eli Drinkwitz mentioned on Monday.
Edwards has had his own impact in helping with that, Drinkwitz said.
"Willie unfortunately had an injury in fall camp. There's nothing you can do about it," Drinkwitz said. "And he has worked every single day to try to provide some sort of contribution to our team.
"And you know, you just encourage guys that it's bigger than just playing and contributing on the field. You're a part of a brotherhood."
Edwards said it took a long time to feel ready to play again. The week of the South Carolina game, Edwards said, was when he felt like he might have a chance to play for the first time. Even when he hasn't been able to play, though, Edwards said has has always learned something from the game of football.
It taught him about selflessness. It introduced him to many people. It allowed him to get his degree, becoming the first in his immediate family to do so. Edwards came to App State knowing he didn't need to lead, pointing to the fact that App State had players like Josh Thomas and Noel Cook, among others, have the structure set in place. Edwards said he wanted to show that he could add to the team's culture in different ways.
Edwards had hopes for his time with the Appalachian program. He modified some after encountering the injury. But he's on the type of team he looked for when he left Illinois State -- one in the hunt for a championship. And even though his role changed, his dedication has not, and he's looking forward to helping the Mountaineers close out this season.
"If you have a vision, you know what it means to you, and even if it feels like you're a step further away from that vision because of injury or anything that's a setback, having that vision, keeping in touch with that will have you in a better place," Edwards said. "Surround yourself with the right people. Not isolate yourself from your teammates, your coaches.
"Trying to be as close to that person you were before the injury is the best thing I'd say. That's just what I try to do; I just try to look at it with a positivity factor like there's someone way worse, who's feeling way worse than I felt. And probably couldn't even had a chance to return, so I'm blessed that I'm even able to be on the field with my teammates considering everything. So I'm very happy about that."