ICARD — The Liberty Middle boys basketball team won its third consecutive game Thursday, 41-33 at East Burke, to remain in third place in a tightly-bunched top portion of the Foothills Athletic Conference.
The Knights (7-2 FAC) are a half-game behind Table Rock and one game behind Walter Johnson with all three of those Morganton-area schools set to square off once more down the stretch to determine the title.
Liberty was led by Braxton Reinhardt's 19 points and five steals in the win, while Jake Perry added 12 points and matched his teammate with five steals while dishing out three assists.
The Raiders (1-8 FAC) were led by Barger Shook (16 points) and Jacob Dellinger (11 points).
Walter Johnson 54, W. McDowell 37
The Yellow Jackets (8-1 FAC) got a monster offensive effort from Zion Thomas on Thursday in Marion as he scored a game-high and season-high 31 points to go with four steals for the league leaders, who won their eighth straight since the season opener.
Amore Connelly chipped in for WJ with 11 points and 14 rebounds in a double-double, and Kris Creekmore supplied six points, four rebounds and four steals.
Table Rock 40, E. McDowell 31
The Falcons (7-1 FAC) also won Thursday in Marion, led by a balanced effort from  Eli Tillery (11 points), Jackson Denton (10), Grant Martin (nine) and Cody Bollinger (seven). Jaiden Belin led TR's efforts on the defensive end and on the glass.
"We got off to a fast start, and that was the key to our success," Falcons coach Chip Lewis said. "We have been working hard in practice fine-tuning the things we do, and it is showing in games."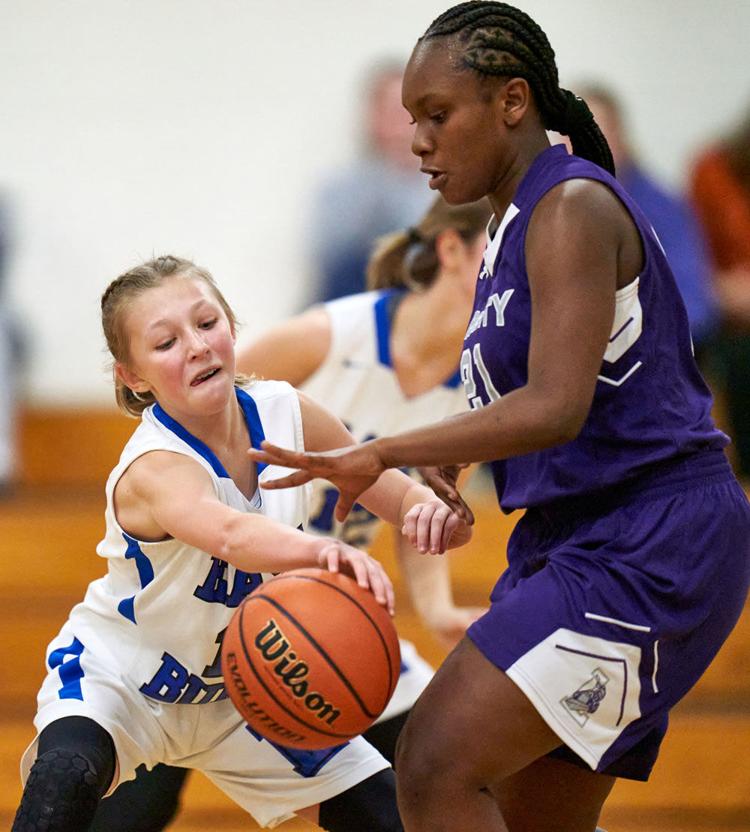 GIRLS BASKETBALL
East Burke 46, Liberty 28
The Lady Raiders (9-0 FAC) won their 22nd straight game spanning the last three seasons Thursday at home and can clinch a second straight outright FAC title with a win Tuesday at second-place Table Rock.
EB's Ally Moore (three assists, three steals, two rebounds) and Kamiah Lawing shared team-high honors with 10 points, and point guard Braelyn Stilwell contributed nine points plus eight steals, two rebounds and two assists.
The Lady Knights (3-6 FAC) were led by Jenaya Johnson's 17 points and four rebounds. Kadence Clontz added five points and four rebounds for LMS, and Maddie Crouch had two points, three rebounds and five steals.
W. McDowell 44, Walter Johnson 22
The visiting Lady Yellow Jackets (0-9 FAC) fell short Thursday despite Keliani Brown's 11 points and game-high 13 rebounds. Melina Bernabe added six points for WJ and Olivia Carter had five.
Table Rock falls to E. McDowell
The Lady Falcons (6-2 FAC) lost Thursday in Marion. No more details were available.
WRESTLING
Liberty 54, East Burke 51
The Knights (6-3 FAC) nabbed a narrow home triumph Thursday as Noah Coffey, Luke Parker, Burke Wilson, Cayden Roscoe, Caleb Rios, Charlie Bennett, Caleb Clark, Jesus Blas and Conner Berg each won.
The Raiders (4-5 FAC) gained wins from Gavin Van Abel (decision), Zach Ward (pin), Grayson Phillips (pin), Lincoln Pierce (pin), Sam Huffman (pin), Conner Mobley (pin), Joshua Hess (pin), Christopher Moore (pin) and Jacob Hodges (pin).
Table Rock 67, E. McDowell 30
The Falcons (6-2 FAC) gained wins Thursday at home from Xander Vue (forfeit), Trenton Walker (pin), Canyon Lance (pin), Alejandro Campos (decision), Ben Garrity (pin), Will Grigg (pin), Nathan Lindsay (pin), Hunter Smith (pin), Deacon Behlke (pin),  Gavin Sweeney (decision), Ben Brockland (forfeit) and Blaze Cobb (pin).  
W. McDowell 96, Walter Johnson 12
The Jackets (2-7 FAC) fell at home Thursday. Individual match winners were not available.
Jonah Severt can be reached at sports@morganton.com.